As seniors age, the need for more hands-on care may be needed. This may be from acute conditions or longer term care. Let's explore the nursing home vs skilled nursing facility.
What is a Nursing Home?
A nursing home is a long term care facility that provides care and assistance with activities of daily living (ADLs) for those who are no longer able to to live independently.
The care provided at nursing homes is sometimes referred to as custodial care.
Nurses, LPNs and RNs, provide medications, treatments, and communicate medical needs with the physician.
Certified nursing assistants (CNAs) assist with ADLs like dressing, bathing, hygiene, feeding, etc.
Meals are provided in rooms or dining areas. Activities also occur, such as Bingo, crafts, music, and church services.
Some facilities may provide physical, occupational, and speech therapy services when needed, however not to the same extensive extent as at skilled facilities.
Hospice and end of life care are commonly offered.
Some nursing homes may have specialized units, such as memory care for dementia patients.
Nursing home stays are not typically covered by health insurance, unless it is with a long term care policy. Many do accept Medicaid or have the option to pay privately.
There are many long term care facilities that serve as both a nursing home and a skilled nursing facility.
What is a Skilled Nursing Facility?
A skilled nursing facility (SNF) is a center that provides services that require a licensed professional to meet functional goals.
These licensed professionals include:
Doctors
Registered nurses (RN)
Licensed practical nurses (LPN)
Physical therapists (PT)
Occupational therapists (OT)
Speech language pathologists (SLP)
Skilled facilities provide the same care as nursing homes with the addition of skilled services provided by these professionals.
Skilled nursing facility stays are temporary with the purpose of rehabilitation to prior level of function after an acute event or medical condition has occurred.
Some SNFs may have long term custodial care as well that patients are able to transition to if unable to return to prior living arrangements.
Is rehab considered a skilled nursing facility?
Skilled nursing facilities provide physical rehab, however not all rehab facilities are considered SNFs.
How long can you stay in a skilled nursing facility?
The length of stay in a skilled nursing facility depends on several factors, including insurance and ability to meet criteria for skilled services.
Medicare A allows the facility to make the determination if medicare guidelines are being met for skilled services.
It can allow for up to 100 days pending that the patient is participating and making progress towards functional goals.
Medicare replacement plans and other insurance policies get to dictate length of stay.
Skilled Services
Skilled nursing and therapy services are performed at SNFs.
Physical and/or occupational therapy are provided at least five times per week, in order to progress towards functional goals and return to prior level of function.
Speech therapy may also be provided as necessary for dysphagia (swallowing difficulty), aphasia (inability to express speech), or cognitive treatment.
Skilled nursing services may include:
IV medications
Extensive wound care
New tracheostomy care
Early, post-op colostomy care
What qualifies a patient for skilled nursing care?
Medicare requires a three night qualifying hospital stay before a skilled nursing benefit period can be accessed.
For those at the hospital who require skilled services, case managers send referrals to skilled nursing facilities of choice for admission approval.
Other managed care insurances may provide benefits that allow direct admission to a SNF from home or doctor's office.
Benefits may vary from state to state. Some veterans may be eligible for additional benefits, both custodial and skilled.
For further information regarding SNF benefits head to the Medicare website.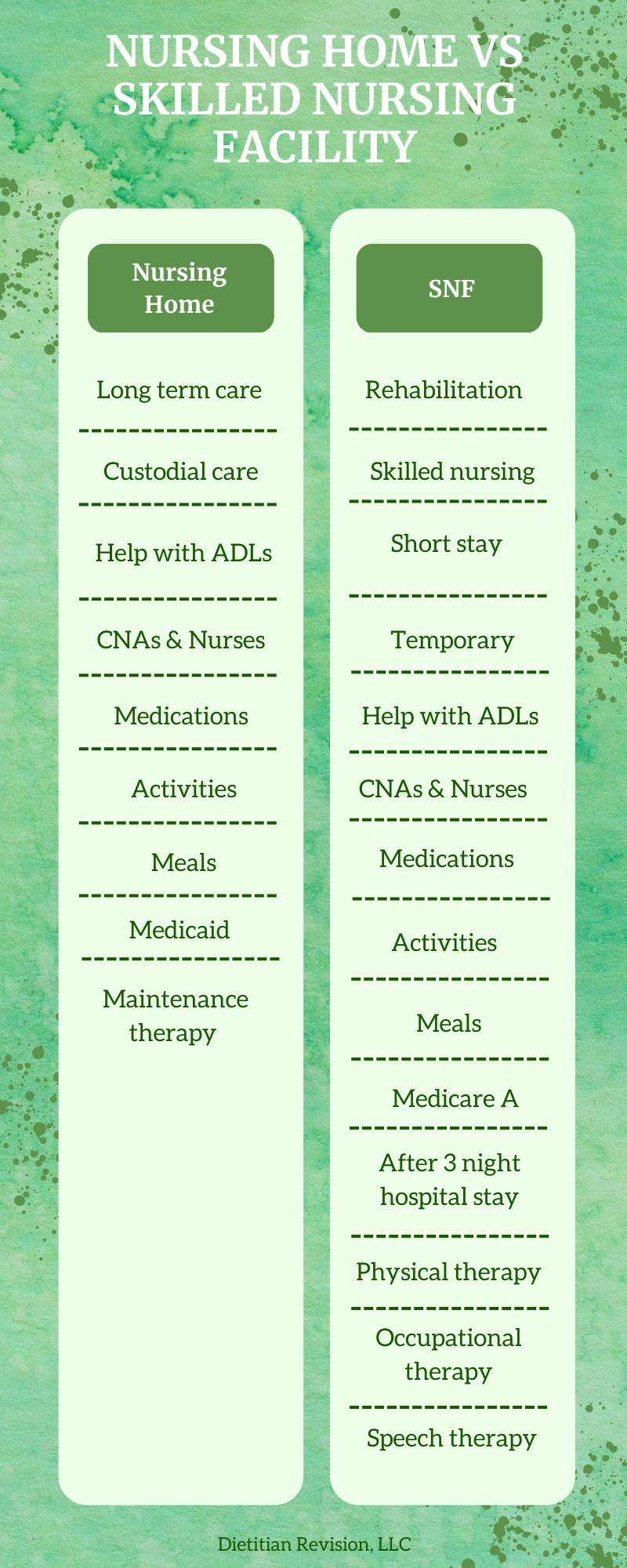 Who Needs Long Term Care?
During a skilled nursing facility stay, some may experience a plateau in their progress, making them unable to return to their prior level of function.
When home alone is no longer a safe option, alternative living arrangements need to be explored.
This may be living with family, having private duty caregivers in the home, assisted living facility placement, or long term care.
These choices can be difficult and vary depending on social and economic factors.
Some skilled nursing facilities may have the option to transition into long term care if they have a nursing home section in the center.
Medicare's facility finder can help you locate places in your area. 
Practical Takeaways
Nursing homes provide long term custodial care, while skilled nursing facilities focus on rehabilitation. Many facilities provide both.
Key differences between nursing homes and SNFs are goals, therapy services, healthcare coverage, and payment methods.