Nearly one billion people battle acute and chronic wounds worldwide (1). Wound healing slows with age. Let's explore other factors affecting wound healing.
*This article contains affiliate links. I may earn a commission from qualifying purchases at no extra cost to you.
Types of Wounds
Wounds may be acute, such as surgical wounds or skin tears, or chronic. Types of wounds include:
Pressure ulcers
Diabetic wounds
Venous ulcers
Arterial ulcers
Skin tears
Surgical wounds
Moisture associated skin damage
What is Wound Healing?
Wound healing is the physiological process that occurs when skin has been damaged.
Phases of Healing
There are four phases of wound healing (2):
Hemostasis
Inflammation
Proliferation
Remodeling
Hemostasis
Hemostasis is the first phase of healing. Blood pushes microorganisms out of the wound (3). Then clotting occurs to prevent excess blood loss.
Inflammation
The inflammation phase is the second stage of wound healing. An immune response occurs to clean and prepare for new tissue formation (4).
Proliferation
The proliferation phase is when the wound heals with fresh collagen and tissue (5). The wound gets smaller as new tissue fills it in.
Remodeling
During the remodeling phase, the wound closes and the tissue gets stronger (6).
Factors Affecting Healing
Many factors affect wound healing, including age, diet, medication conditions, lifestyle, and more.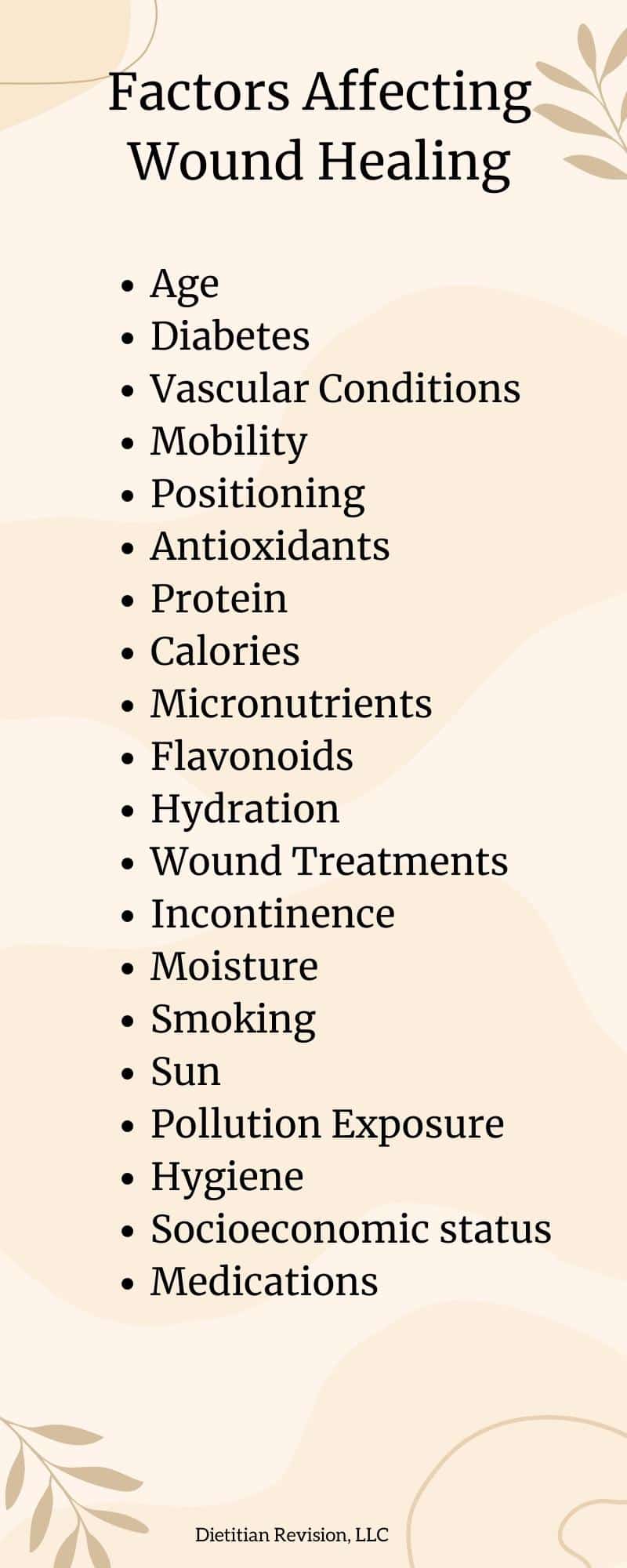 Age
Aging increases the risk for impaired skin integrity and delayed healing. Slower healing can increase risk of infection (7).
This makes chronic wounds more likely, which can significantly impact quality of life.
Inflammation increases during aging and many processes involved in healing are impaired (8).
Skin of older adults has lower water content, less resistance, decreased tissue under the skin, and impaired vasculature (9).
Diagnoses and Conditions
There are certain diseases and conditions that can increase the risk of impaired healing.
Diabetes
Diabetes can impair processes involved in proper healing. It causes a chronic inflammatory state, which can impair ability to move further through the stages of healing (10).
Vascular Disease
Vascular disorders, such as peripheral vascular disease (PVD), negatively impacts blood flow and therefore wound healing.
Mobility & Positioning
Declined mobility, especially being bedridden, can increase risk for wounds and delay healing.
Pressure needs to be offloaded from pressure points to prevent and heal wounds.
Turning from side to side in bed periodically, not sitting in one spot for too long, floating heels with a pillow, and having a pressure reducing cushion in wheelchairs can help.
Nutrition
Diet is a major contributor to the ability to heal. Nutritional supplement drinks may help support healing.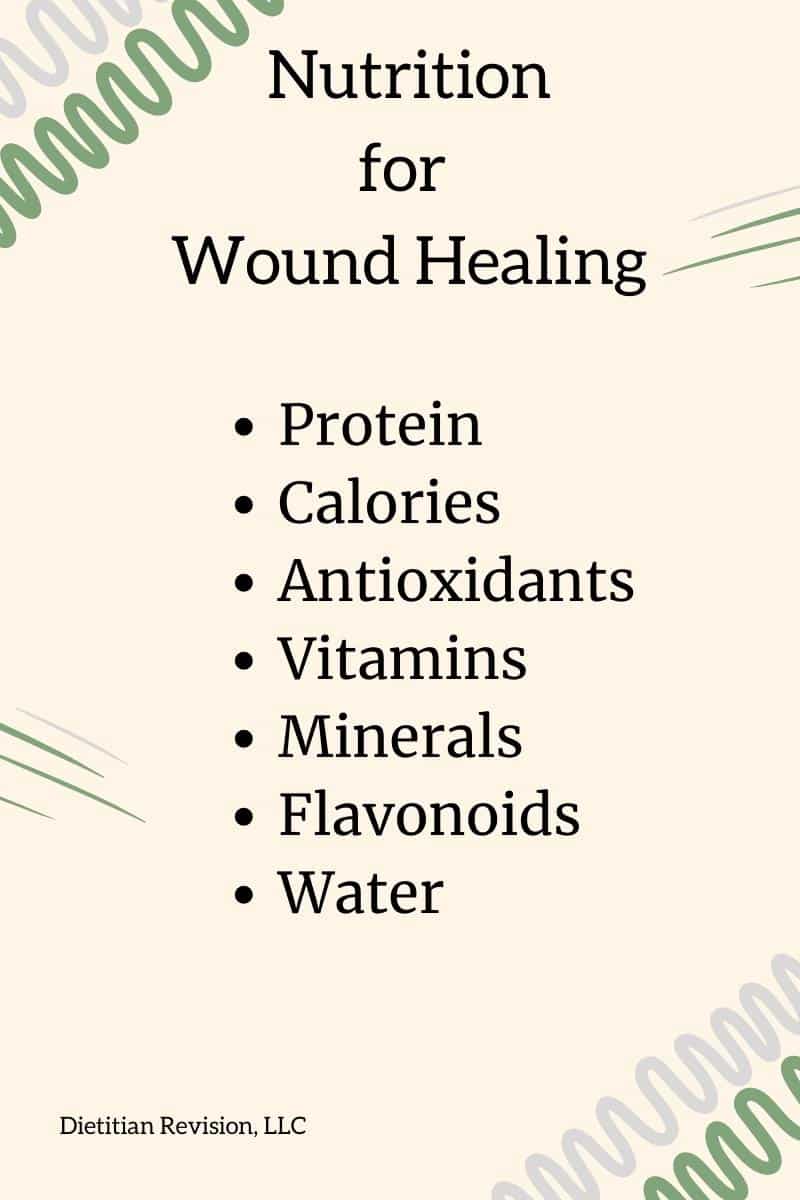 Antioxidants
Antioxidants are essential to wound healing, by removing free radicals and oxidants that can impair the healing process (11).
Sources of antioxidants include fruits, vegetables, red wine, turmeric, and green tea.
Protein
Adequate protein is needed for repair and tissue growth. Consuming beef, chicken, turkey, pork, fish, dairy, beans, eggs, and other protein foods can help healing.
Collagen
Collagen is a specific protein required for new tissue formation. Head to Amazon to purchase my favorite collagen powder supplement for skin health and even other benefits.
*This article contains affiliate links. I may earn a commission from qualifying purchases at no extra cost to you.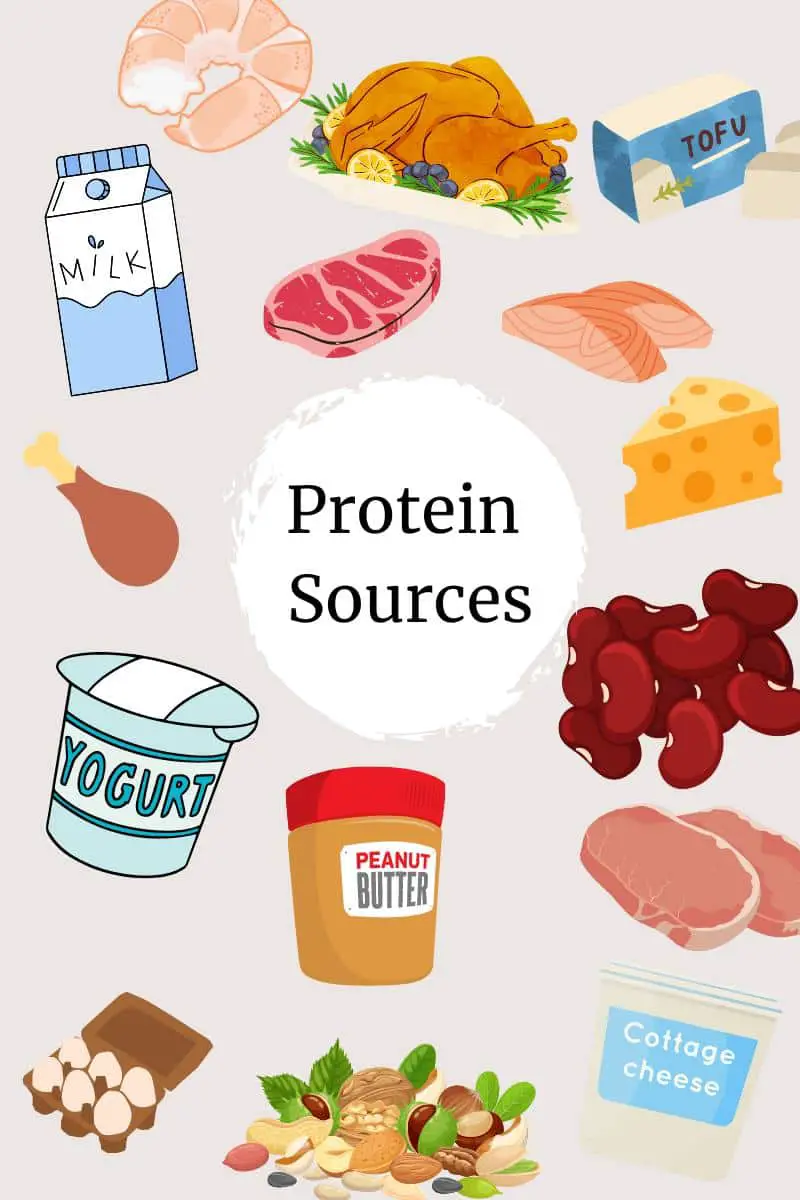 Calories
Adequate energy intake is needed in order to preserve protein intake for wound healing. This is called protein sparing.
Micronutrients
Many vitamins and minerals are necessary for healing. Consuming a variety of foods can meet micronutrient needs.
With adequate oral intake supplementation is likely not needed, however may be beneficial for those with declined appetite and decreased meal consumption.
Flavonoids
Flavonoids are compounds found in plant products such as (12):
Fruits
Vegetables
Red wine
Tea
Soy
Herbs
Chocolate and cocoa
They have antioxidant, antibacterial, and anti-inflammatory properties that can help with wound healing (13).
Hydration
Without proper hydration, skin can be dry and more fragile. This increases risk for wound development and delayed healing.
Water is also necessary for proper perfusion, nutrient metabolism, and removing waste.
Types of Treatments
Various treatment types for different wounds exist. Receiving appropriate wound care from a specialist can assist with proper healing.
Continence
Wounds located on the buttocks, gluteal folds, sacrum, or coccyx and be negatively impacted by incontinence of bowel and bladder.
Excess moisture from urine can delay healing. Feces near the wound can increase risk of infection, also interfering with healing.
Frequent changing of incontinence products or toileting and utilizing some type of barrier cream can help.
Environment & Lifestyle
Some environmental and lifestyle factors can impact skin integrity and healing (14):
Smoking
Sun
Pollution exposure
Hygiene
Socioeconomic status
Medications
Some medications may impair wound healing, such as steroid use.
Practical Takeaways
There are many factors that affect wound healing. Some in our control, like nutrition, and some that are not.
This is especially important for older adults, as healing slows with age. Eating a variety of foods both plants and protein sources help support healing.